Press Release on postbranche.de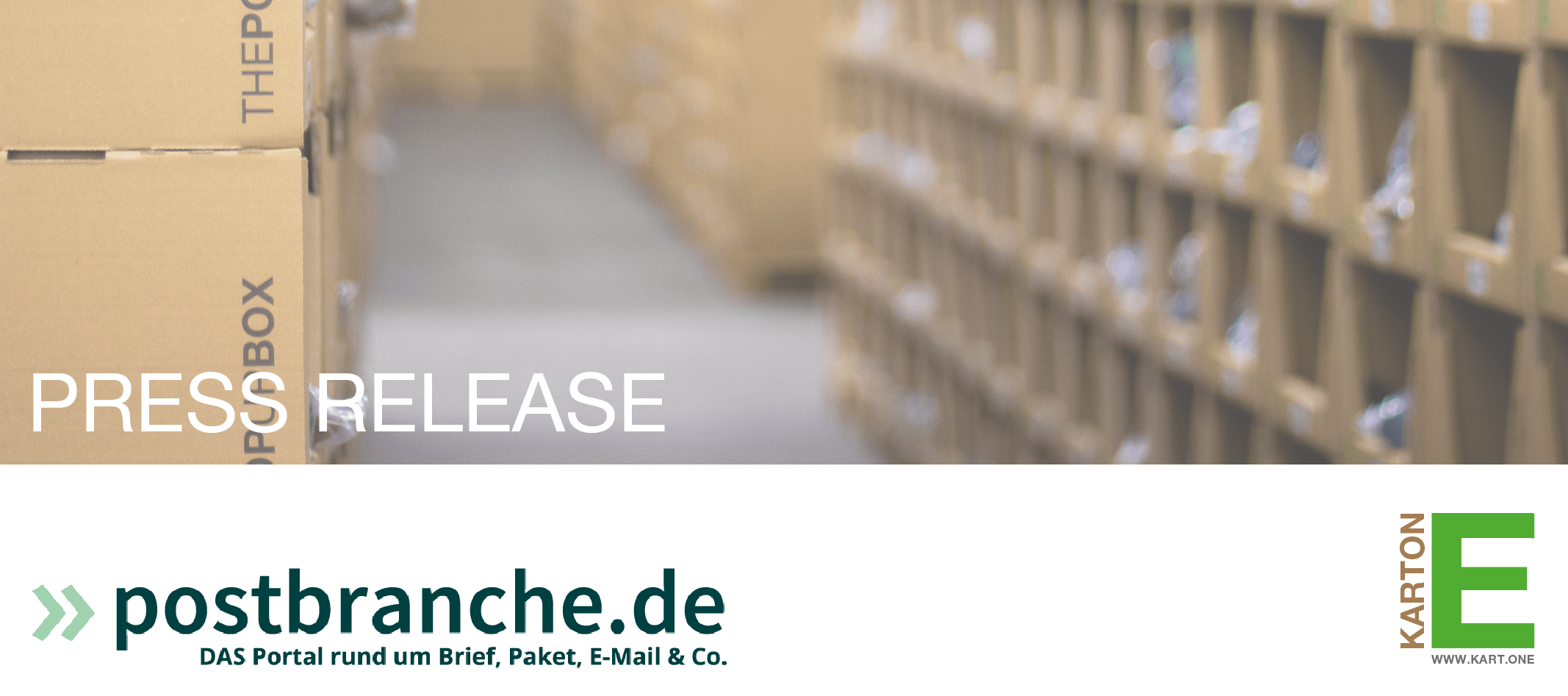 PARCEL.ONE designs forward-looking and sustainable shelving system made of cardboard packaging
Mobile shelving system kart.onE made of recycled cardboard can be used flexibly
More efficient use for logistics and storage areas possible
Ideal solution for wholesale and retail
The German logistics service provider PARCEL.ONE has developed a sustainable shelving system made of cardboard that enables the flexible transport of goods in modern logistics areas while at the same time protecting the environment. With this solution, the company is rethinking the established heavy-duty shelving and is sending a clear signal for more sustainability in e-commerce as well as logistics. The storage system called "kart.onE – THEPOPUPBOX" is available now at https://kart.one/ 
Until now, heavy-duty metal racks have been common in industry and even mandatory in certain areas. For safety reasons, these have to be firmly bolted to the floor, require an expertise test by TÜV, and are neither flexible to use nor sustainable due to the choice of materials. "Today, modern logistics centers must be adaptable to the maximum. With a mobile racking system, a high degree of flexibility can be ensured," explains Micha Augstein, founder and managing director of PARCEL.ONE.
The new type of shelving system has been intensively tested in fulfillment at PARCEL.ONE over the past five years, continuously improved, and is ideally suited for industrial use despite the prejudices against the durability of the material (paperboard). "We have increasingly felt the weaknesses of permanently installed steel shelving in our own logistics center. It was clear to us that we needed a system that could do more. More flexibility, less cost, but also no compromise on load capacity. At the same time, our aspiration was to create something new that would meet today's need for sustainable business. Away from steel and plastic containers. That's why we opted for a material that we use every day anyway – cardboard packaging," Augstein continues.
kart.onE contributes to more sustainability in (intra-)logistics. The material, made from renewable raw material and environmentally friendly production, is certified by PEFC ST 2002:2020 and ISO 14001. "Contrary to what one would expect, the cardboard box surprises with its stability and resilience. Combined with the quick and easy assembly and the flexible application possibilities as a modular system, the material makes our solution perfect," says Augstein. Life cycle assessment and carbon footprint were key factors in the development of the new storage solution for PARCEL.ONE, the logistics expert and inventor of kart.onE.
The shelving system made of cardboard can be produced not only in different sizes and variations. The individual systems can also be stacked and combined. Even when loaded, small and light goods on the pallets can be transported easily and quickly within the logistics. With this system, new capacities can be created quickly in modern logistics areas or reduced again at short notice. The system can be folded as a carton namely with little effort space-saving. In this way, 300 boxes of about 12 Euro pallets can be reduced to a single double pallet, conveniently stored and transported. This means that the area of application is not limited to industry. Cart.onE can also be ideally used in warehouses and sales areas of retailers and wholesalers.
Click here for the press release on www.postbranche.de (German)